Question:  Are there any other opinions that you intend to give at trial, other than the opinions you have already provided?  
The case of Jones v. Moore, (2000) 80 Cal App. 4th 557, explains why this question is so important.  Jones was a legal malpractice case that arose out of a marital dissolution case.  The case went to trial and plaintiff lost on liability; it was a defense verdict. Plaintiff appealed and argued that the trial judge's order, excluding certain opinions of plaintiff's expert witness, was grounds for a reversal of the jury's verdict.
The Court of Appeal analysed California's expert witness statute at C.C.P. § 2034 and the trial judge's order under the abuse of discretion standard.  The purpose of C.C.P. § 2034 is to permit parties to adequately prepare to meet the opposing expert opinions that will be offered at trial.  The issue that the court of appeal analysed was whether or not the offered expert opinion testimony was beyond the scope of plaintiff's expert's deposition testimony.  Plaintiff's counsel was attempting to ask his expert at trial for opinions that were not given at the expert's deposition.  
The #Paralegal & #MockTrial Digest is out! https://t.co/j00IZBrn1B Stories via @Jerilyn279 @utulsa @shalomtrans

— California Law Pros (@calawpros) December 7, 2015
At deposition, defense counsel asked the plaintiff's expert if there were "any other areas, in which you believe defendant fell below the standard of care in representing plaintiff?" Plaintiff's expert replied, "Not that I am prepared to testify to at this time." The defense lawyer asked whether the expert anticipated doing any further work on the matter that could result in any other opinions.  The expert said, "No, but if I do, you will be notified well in advance, so as to be able to properly exercise your discovery rights."
[offer-box href="http://signuptosettlement.com/optin-abc" linktext="LEARN "THE ABCs OF BECOMING A SUCCESSFUL TRIAL LAWYER FROM DAY ONE" #FREE!" securecheckout="false" footnote="Also Download 'Ten Step Blueprint For Consistent Personal Injury Referrals' *This is a Free training and no credit card is required."]
The court of appeal explained that a party has a right to rely on the other party's expert's express representation that the opinions expressed during deposition are the only ones that need to be met at trial. The court referred  to Bonds v. Roy (1999) 20 Cal 4th 140, as authority for important goal of  § 2034, which is to enable parties to properly prepare for trial and allowing new and unexpected testimony for the first time at trial is contrary to that purpose.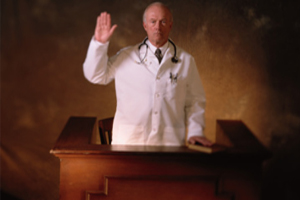 Jones is a good case to review while preparing to defend your own expert's deposition or while planning to take the defense expert's deposition. When taking an expert's deposition, it is important to determine all of the expert's opinions and what they are based upon. It's also important to ask the expert if they intend to do any additional work or intend to offer any additional opinions at trial. If they answer in the affirmative, you have the right to question the expert on those opinions. Also, C.C.P. § 2034 requires an expert to be prepared for the giving of those opinions and the basis of those opinions at their deposition. The Jones case gives good authority for the rule that an expert cannot add opinions not given at deposition, especially when an express representation is made that all of the opinions have been made at the deposition and no new opinions will be given at trial.
In Sign Up To Settlement: A Personal Injury Boot Camp, we have an entire section devoted to just expert witnesses.  We go over the retention of experts, their disclosure and how to prepare your expert for both their deposition and trial.  For more information, go to www.signuptosettlement.com.
The next generation of great plaintiff personal injury lawyers are working in the criminal courts right now.  Former criminal lawyers make excellent civil trial attorneys because they have extensive jury trial experience.  Having a comfort level in front of juries allows criminal lawyers to quickly take advantage of the settlement leverage, created when a trial date is assigned to a personal injury case.
Here are the top ten reasons why lawyers working in the criminal courts, including criminal defense lawyers, public defenders, JAG Corp officers, prosecutors and district attorneys, will become this country's next generation of plaintiff personal injury lawyers.
1. Criminal lawyers are comfortable using the adversarial process, to help get cases resolved.
They are comfortable with the risk reward calculus that must be weighed prior to a jury trial.
2. Civil depositions are easy for criminal lawyers.
Because of their trial experience, these lawyers are already skilled witness examiners.
3. Criminal defense lawyers are skilled cross-examiners.
You won't have to relearn this skill if you convert from a criminal lawyer to a plaintiff personal injury lawyer.  The same concepts that make a good cross-examination apply on the civil side; except it's easier,   because you now have depositions available for impeachment.
 4. Criminal lawyers already know evidence law.
The rules of evidence don't change on the civil side.  They may relax a bit- that's about it.  Criminal lawyers already know the hearsay rule and all the exceptions.  These lawyers already know how to lay foundations for the introduction and admission of documents and photographs.
5. Criminal lawyers are familiar with various Judge types.
Some are crabby and some are nice, but whichever type of judge they get, they already know how to deal with them.
[offer-box href="http://signuptosettlement.com/optin-abc" linktext="LEARN "THE ABCs OF BECOMING A SUCCESSFUL TRIAL LAWYER FROM DAY ONE" #FREE!" securecheckout="false" footnote="Also Download 'Ten Step Blueprint For Consistent Personal Injury Referrals' *This is a Free training and no credit card is required."]
6. Criminal defense lawyers and public defenders feel comfortable working on cases where, initially, it appears the odds of winning are not favorable.
They already know it takes hours of creative thinking and learning, to discover a true defense for a criminal defendant.  This same skill can be put to use in challenging catastrophic personal injury cases, where the responsible party may not be apparent when the case first presents itself to the lawyer.
7. Criminal defense lawyers are not quick to judge others.
Criminal defense lawyers and plaintiff personal injury lawyers both represent people.  Criminal defense lawyers grow to understand that most people are valuable, lovable and credible in their own unique way.  Criminal defense lawyers understand how to discover the value and beauty in each and every person they represent.
8. Criminal lawyers have developed perspective.
They know that cases are not black and white.  They have a good understanding that, no matter how clear something appears initially, things may not be so clear at the end of the presentation of the evidence.
9. Trial Continuances:
There is a bit of difference here.  Criminal defense lawyers are commonly granted trial date continuances. Beware: that's not the case on the civil  side.  Judges use the pressure of the trial date to get cases to settle.  It means that, if you do not file a timely motion to continue your trial date, with the proper amount of just cause, watch out: a civil trial judge may not grant the continuance.
10. Courage.
Trial work is not for the timid.  Lawyers working on the criminal side have already faced their fears and learned how to march forward.  This skill is just as valuable when standing up for the rights of an injured individual. 
If you are a criminal defense lawyer or a prosecutor who is interested in learning more about what it takes to go out on your own as a plaintiff personal injury law, check out Sign Up To Settlement, A  Personal Injury Boot Camp. Here's the link: signuptosettlement.com/bootcamp.