Sign-up to Settlement: A Personal Injury Bootcamp looks at the issue of both formal and informal discovery and how they differ. The court of appeal decision in Pullin v. Superior Court (2000) 81 Cal App 4th 1161 looked at the practical differences between the two types of discovery in the context of an informal site inspection at a Supermarket.
Pullin was a personal injury claim that arose from a slip-and-fall at a Von's Supermarket in Los Angeles. The plaintiff attorney found himself in the uncomfortable position of having an unprepared expert, who was about to have his deposition taken. Plaintiff's forensic safety engineer had not inspected the scene of the slip-and-fall, yet his deposition was about to be taken. Plaintiff's attorney called Von's counsel and asked for permission for his expert to "conduct tests" on the floor of the Supermarket. The defense lawyer denied the request, reminding the plaintiff's lawyer that fact discovery was closed and the time had run for a properly noticed site inspection, pursuant to C.C.P. § 2031. Plaintiff responded by sending his expert to the store on their own, while the store was open for business. The expert examined the spot where the fall had occurred, used a "small machine" to test the floor and left. During the 15 minute inspection no one complained, no one asked the expert to leave and no damage was done to the floor.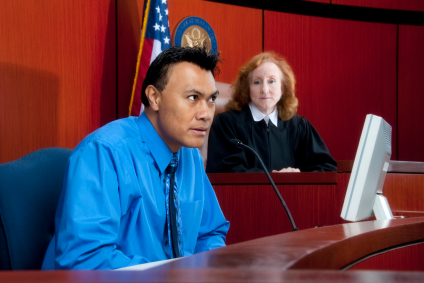 The expert was deposed the day after the informal inspection took place and they revealed the details of their informal site inspection conducted during store opening hours. The case proceeded to trial. At trial, the defendant moved in limine to exclude the expert's opinion and the trial court agreed, finding the conduct "secretive" and "contrary to the spirit of our discovery laws." Plaintiff filed a writ and the Court of Appeal overturned the trial judge's exclusionary ruling.
Justice Miriam A. Vogel wrote the opinion and held that there is nothing in the Civil Discovery Act to prevent a party from conducting unilateral investigation, provided that the investigation is lawful. Low cost investigation should be encouraged and "evidence is not made inadmissible by the simple fact that it is obtained by investigation rather than by way of formal discovery," Pullin at 1165.
[offer-box href="http://signuptosettlement.com/optin-abc" linktext="LEARN "THE ABCs OF BECOMING A SUCCESSFUL TRIAL LAWYER FROM DAY ONE" #FREE!" securecheckout="false" footnote="Also Download 'Ten Step Blueprint For Consistent Personal Injury Referrals' *This is a Free training and no credit card is required."]
The question before us is whether property open to the public can be examined without recourse to section C.C.P. § 2031, Pullin at 1166. In answering this question, the justices examined the Los Angeles Municipal Code that governed private property which is open to the public. Because plaintiff's forensic safety engineer, Ralph Engdahl, did not do anything to damage the property, no one asked him to leave during his inspection and he did not interfere with Von's ability to conduct their business, "we do not see any unlawful conduct," Pullin at 1165.
In Sign-up To Settlement's session on Expert witnesses, we cover how to properly prepare an expert witness for deposition. The example set by the plaintiff attorney in Pullin is not ideal, however it was lawful and, ultimately, resulted in admissible evidence to support an expert's opinion.
SEE ALSO:  10 Reasons Why Criminal Lawyers Make Excellent Civil Trial Attorneys.
Question:  Are there any other opinions that you intend to give at trial, other than the opinions you have already provided?  
The case of Jones v. Moore, (2000) 80 Cal App. 4th 557, explains why this question is so important.  Jones was a legal malpractice case that arose out of a marital dissolution case.  The case went to trial and plaintiff lost on liability; it was a defense verdict. Plaintiff appealed and argued that the trial judge's order, excluding certain opinions of plaintiff's expert witness, was grounds for a reversal of the jury's verdict.
The Court of Appeal analysed California's expert witness statute at C.C.P. § 2034 and the trial judge's order under the abuse of discretion standard.  The purpose of C.C.P. § 2034 is to permit parties to adequately prepare to meet the opposing expert opinions that will be offered at trial.  The issue that the court of appeal analysed was whether or not the offered expert opinion testimony was beyond the scope of plaintiff's expert's deposition testimony.  Plaintiff's counsel was attempting to ask his expert at trial for opinions that were not given at the expert's deposition.  
The #Paralegal & #MockTrial Digest is out! https://t.co/j00IZBrn1B Stories via @Jerilyn279 @utulsa @shalomtrans

— California Law Pros (@calawpros) December 7, 2015
At deposition, defense counsel asked the plaintiff's expert if there were "any other areas, in which you believe defendant fell below the standard of care in representing plaintiff?" Plaintiff's expert replied, "Not that I am prepared to testify to at this time." The defense lawyer asked whether the expert anticipated doing any further work on the matter that could result in any other opinions.  The expert said, "No, but if I do, you will be notified well in advance, so as to be able to properly exercise your discovery rights."
[offer-box href="http://signuptosettlement.com/optin-abc" linktext="LEARN "THE ABCs OF BECOMING A SUCCESSFUL TRIAL LAWYER FROM DAY ONE" #FREE!" securecheckout="false" footnote="Also Download 'Ten Step Blueprint For Consistent Personal Injury Referrals' *This is a Free training and no credit card is required."]
The court of appeal explained that a party has a right to rely on the other party's expert's express representation that the opinions expressed during deposition are the only ones that need to be met at trial. The court referred  to Bonds v. Roy (1999) 20 Cal 4th 140, as authority for important goal of  § 2034, which is to enable parties to properly prepare for trial and allowing new and unexpected testimony for the first time at trial is contrary to that purpose.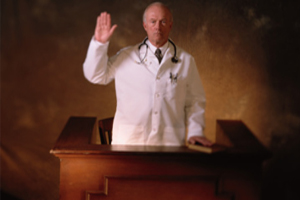 Jones is a good case to review while preparing to defend your own expert's deposition or while planning to take the defense expert's deposition. When taking an expert's deposition, it is important to determine all of the expert's opinions and what they are based upon. It's also important to ask the expert if they intend to do any additional work or intend to offer any additional opinions at trial. If they answer in the affirmative, you have the right to question the expert on those opinions. Also, C.C.P. § 2034 requires an expert to be prepared for the giving of those opinions and the basis of those opinions at their deposition. The Jones case gives good authority for the rule that an expert cannot add opinions not given at deposition, especially when an express representation is made that all of the opinions have been made at the deposition and no new opinions will be given at trial.
In Sign Up To Settlement: A Personal Injury Boot Camp, we have an entire section devoted to just expert witnesses.  We go over the retention of experts, their disclosure and how to prepare your expert for both their deposition and trial.  For more information, go to www.signuptosettlement.com.