Sign-up to Settlement: A Personal Injury Bootcamp looks at the issue of both formal and informal discovery and how they differ. The court of appeal decision in Pullin v. Superior Court (2000) 81 Cal App 4th 1161 looked at the practical differences between the two types of discovery in the context of an informal site inspection at a Supermarket.
Pullin was a personal injury claim that arose from a slip-and-fall at a Von's Supermarket in Los Angeles. The plaintiff attorney found himself in the uncomfortable position of having an unprepared expert, who was about to have his deposition taken. Plaintiff's forensic safety engineer had not inspected the scene of the slip-and-fall, yet his deposition was about to be taken. Plaintiff's attorney called Von's counsel and asked for permission for his expert to "conduct tests" on the floor of the Supermarket. The defense lawyer denied the request, reminding the plaintiff's lawyer that fact discovery was closed and the time had run for a properly noticed site inspection, pursuant to C.C.P. § 2031. Plaintiff responded by sending his expert to the store on their own, while the store was open for business. The expert examined the spot where the fall had occurred, used a "small machine" to test the floor and left. During the 15 minute inspection no one complained, no one asked the expert to leave and no damage was done to the floor.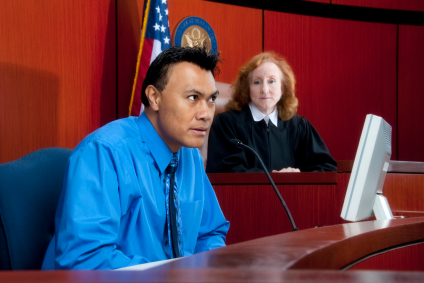 The expert was deposed the day after the informal inspection took place and they revealed the details of their informal site inspection conducted during store opening hours. The case proceeded to trial. At trial, the defendant moved in limine to exclude the expert's opinion and the trial court agreed, finding the conduct "secretive" and "contrary to the spirit of our discovery laws." Plaintiff filed a writ and the Court of Appeal overturned the trial judge's exclusionary ruling.
Justice Miriam A. Vogel wrote the opinion and held that there is nothing in the Civil Discovery Act to prevent a party from conducting unilateral investigation, provided that the investigation is lawful. Low cost investigation should be encouraged and "evidence is not made inadmissible by the simple fact that it is obtained by investigation rather than by way of formal discovery," Pullin at 1165.
[offer-box href="http://signuptosettlement.com/optin-abc" linktext="LEARN "THE ABCs OF BECOMING A SUCCESSFUL TRIAL LAWYER FROM DAY ONE" #FREE!" securecheckout="false" footnote="Also Download 'Ten Step Blueprint For Consistent Personal Injury Referrals' *This is a Free training and no credit card is required."]
The question before us is whether property open to the public can be examined without recourse to section C.C.P. § 2031, Pullin at 1166. In answering this question, the justices examined the Los Angeles Municipal Code that governed private property which is open to the public. Because plaintiff's forensic safety engineer, Ralph Engdahl, did not do anything to damage the property, no one asked him to leave during his inspection and he did not interfere with Von's ability to conduct their business, "we do not see any unlawful conduct," Pullin at 1165.
In Sign-up To Settlement's session on Expert witnesses, we cover how to properly prepare an expert witness for deposition. The example set by the plaintiff attorney in Pullin is not ideal, however it was lawful and, ultimately, resulted in admissible evidence to support an expert's opinion.
SEE ALSO:  10 Reasons Why Criminal Lawyers Make Excellent Civil Trial Attorneys.
Here are the top three legal concepts criminal lawyers new to civil practice must understand. Criminal defense lawyers make excellent personal injury lawyers.  Jerry Spence started practicing law as a prosecutor, and later became a criminal defense lawyer.  The main reason is that criminal lawyers are already great litigators.  You already know how to question an adverse witness and try a case in front of a jury.  However, the transition between the two areas of law can seem daunting. The three issues that criminal defense lawyers new to personal injury law must know are:
1. The relevance standard for discovery in a civil case is reasonably calculated, to lead to the discovery of admissible evidence.  This standard allows for the search of evidence which may be relevant at trial.  See Norton v. Superior Court (1994), 24 Cal.App.4th 1750.
2. The burden of proof is different in a civil case, especially with injury causation.  Espinosa v. Little Co. of Mary Hospital (1995) is an excellent case that quickly gets criminal lawyers up to speed on the new standards of proof they will be working with.  Espinosa explains that it is only necessary for a plaintiff to demonstrate that the negligence of the defendant was a substantial factor in causing the claimed injury.
3. Criminal lawyers already work with expert witnesses, however, on the civil side, the expert disclosure requirements are different.  Schreiber v. Estate of Kiser (1999) explains the differences between a retained and non-retained expert witness and how that impacts the requirements of the expert witness disclosure statute, C.C.P. section 2034.210 et seq.
Sign Up To Settlement: A Personal Injury Boot Camp allows criminal defense lawyers and prosecutors to quickly ramp up the additional knowledge they need to begin taking civil cases.  We have broken down the entire civil personal injury practice into its ten essential segments of must-know information.  Each segment is explained in an easy to understand screencast that allows criminal lawyers to quickly digest the must-know information, needed to accept a personal injury case.
For more information on how to sign up and settle your first personal injury case, check us out at http://signuptosettlement.com/bootcamp.